Thursday October 25th 2007.
Well, only 2 weeks since my last update. not great, but getting better! I just got back from an amazing vacation in New Mexico. I loved Taos especially and took lots of photos which you can see here. If you are interested. I hope to start some SW inspired art soon! In the meantime, I finished these 2 little watercolor and ink paintings just before I left and they are now on Etsy. enjoy!
Thursday October 11th, 2007.
Well, I am officially a bad blogger, since I have not said a peep since June. I HAVE been making art, though, and if you want to see some i suggest you follow the links above to my Etsy Page and Flickr Account. In the meantime I will give you a bit of news and some eye-candy. I have 3 pieces at the Plush You show! Plush You Opens tomorrow night, Oct 12th, in Seattle Washington. You can get more details by following the link! I forget how long it will be up for, but I think at least a month. Artists from around the world have sent their hand-designed and hand-made plush animals, dolls, and critters for your enjoyment. And now, some art.. These two little Autumny Paintings are on Etsy!. Enjoy!
Wednesday June 27th 2007
I have been working away at beading and drawing and painting. I have listed 5 new prints in my Etsy Shop. You can see them below. I will post a picture of my finished beaded project soon, maybe later today or tomorrow!
Thursday June 21st 2007
I am still doing a lot of watercolor, and hoping to introduce some more prints on Etsy soon. I also need to take more photos of the piece I am beading--it's almost done. So many things i want to make, and there is only so much time... Anyway! Enjoy this painting: Enchanted Forest. Click thumbnails.
Tuesday June 19th 2007
Well, it was a rainy weekend so I holed up and drew, painted, knitted, and beaded. Here is a photo and some details from a watercolor and ink painting I just finished. as usual, click thumbnails.
Friday June 15th 2007
It is a cold and rainy day in Seattle and I wish I could stay home and make art, but I have the day job to deal with! I am sure many of you can relate.. This is a pen and ink / watercolor I did a couple days ago. I am working on another one now...I am thinking of doing a series of 4 birds that will be available as prints. So here we have the blue heron.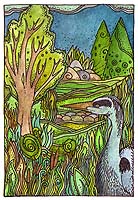 Thursday June 14th 2007
I have not done much beading in the last week, need to get back to that. But I have been doing some drawing and painting. Here is a new one that is also available as a print in my Etsy shop.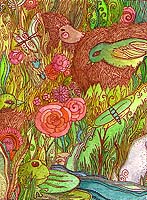 Friday June 8th 2007
Well, I have been beading away, a bit here, a bit there. Here are 2 more in progress pictures so you can see how things are unfolding, click thumbnails.
Tuesday June 5th 2007
As promised, here is my beaded "journal" for the 2007 Beaded Journal Project. Here you can see step 1: gathering supplies, a photo after one session of beading, and a closeup. I am doing a series of small journal quilts, which I will frame rather than bind. Happy Beading!
Monday June 4th 2007
Well, I have been working on some paintings lately. Most acrylic on canvas, but there is a watercolor too.. Click the thumbnails for a larger view! And! In the next few days (one hopes tomorrow) I will start posting regular progress photos of my journal "pages" in Robin Atkin's 2007 Bead Journal Project. I am doing something a little different, and my pages are not intended to be bound. I have done my prep work and ferreted out some beads.. well, you will see.
Saturday May 26th 2007
How did I manage to go three weeks without updating? Dear me. Well. Good news -- I have three new prints in my etsy shop. You can see the originals below, click thumbnails!
Monday May 7th 2007 -- in which i talk about music!
i had the pleasure on thursday of going to the sunset tavern in ballard to see truckstop souvenir and the starlings. Then I went to a house party on Sunday and heard Truckstop again.

"... their voices and instruments ... intertwine with an ease that evokes both the showbiz polish of the Everly Brothers and the rustic charm of the Carter clan ... " Kurt B. Reighley, The Stranger

truckstop souvenir is a wonderful duo. the female half, lauryn, was my violin teacher for four years. their 1st CD, Leave Nothing Behind, is out, and you can get it on their website, or amazon, or itunes. Also, they have a lot more tour dates scheduled. Check their calendar for dates coming up in:
Portland, OR
Placerville CA
Salida CO and Lyons CO
Omaha NE
Fairfield, Iowa City, Grinnell, Spencer, Ames IA
Edwardsville IL
Kansas City MO
Sioux Falls SD and Custer SD
Lapeer MI
Van Buren MO

the starlings are also going on the road and have dates in the midwest listed on their calender. They have a great CD out called Songbook, which you can get at cd baby. --i think itunes might have it as well.

Saturday May 5th 2007
These are the paintings I have been working on recently. The large one is the biggest painting I have ever done (excluding a couple of murals.) It is 16x20". The triptych is 5x10", (each panel is 5x5", and the smallest one is 4x4". They are all acrylic on canvas with pitt pens, and sealed with dorland's wax. click thumbnails!
Thursday May 3rd 2007
My twin sister points out I have note updated this in a couple weeks. Well, I was lazy, and I hurt my back again, and I was lazy.. What have I been working on? Some mini quilts, several paintings (acrylic on canvas) and some drawings in my journal. So here are two spreads in my moleskine journal to tide you over till I can post some other art.
6
Friday April 13th 2007
I had not made any art in 4 or 5 days, due to.. uh, feeling kind of bleak and hopeless i guess. well, i had a cold and that makes you feel kind of bleak and hopeless. one of those nasty spring ones where you want to sleep 23 hours a day even if it is sunny out. i am mostly over that just in time for it to be rainy out. but not making art makes me feel kind of bleak and hopeless too, so last night i did a couple ATC. just a little something to pick me up. Click thumbanails, + they are on Etsy
Friday April 6th 2007
I love this time of year, but my allergies have been making me really tired so i have not gotten much art done this week. i did finish another octopus painting last night and started some bird ATCs. Hopefully there will be some art time this weekend!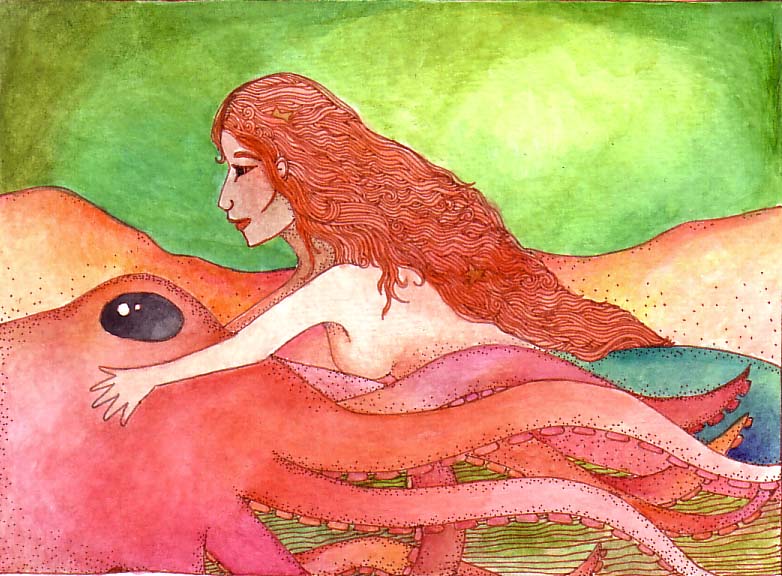 Sunday April 1st 2007
I got a chance to finish up some watercolor ATCs and 2 larger paintings that I had in various stages! Some of these are on etsy. click thumbnails!
Saturday March 31st 2007
These are some new ATCs that are on Etsy. They are watercolor, graphite, and ink on watercolor paper.
Tuesday March 27th 2007
Here are some pen and ink drawings from this weekend. One is a page of a graphic short story or novella I am working on for a zine swap, and the other two are on etsy!. Click thumbnails and enjoy! I am working on something with beads and fabric now!
Saturday March 24th 2007
I finished my little piggy. the pattern is pretty easy and I think an brave beginner could do it. You just need to know how to cast on, knit, purl, increase, knit 2 together, and seam. The seaming is the hardest part! :) I think I will knit the next one in the round! Also that would have worked better for the varigated yarn I used for his sweater. The pattern is Here.
Thursday March 22nd 2007
These two pen and ink and watercolor drawings are 5x7" each. I did them about a month ago and they are some of my favorites. I am actually surprised they have not sold, and if they don't sell I may decide to keep them. But for now they are in my Etsy Shop. Enjoy, and click thumbnails.
Wednesday March 21 2007
Here are some more pen and ink with watercolor paintings I have done sometime in the last month or so.. click thumbnails! I love using sepia ink with watercolors. (The pen is actual pitt artist pen, sanguine.)
Tuesday March 20th 2007
2 entries in one day, probably a record. Well, since it is spring at 5:07 PST this afternoon and since Easter is coming, I cut the prices of some of my Spring-ish and Easter-ish items in my Etsy Shop!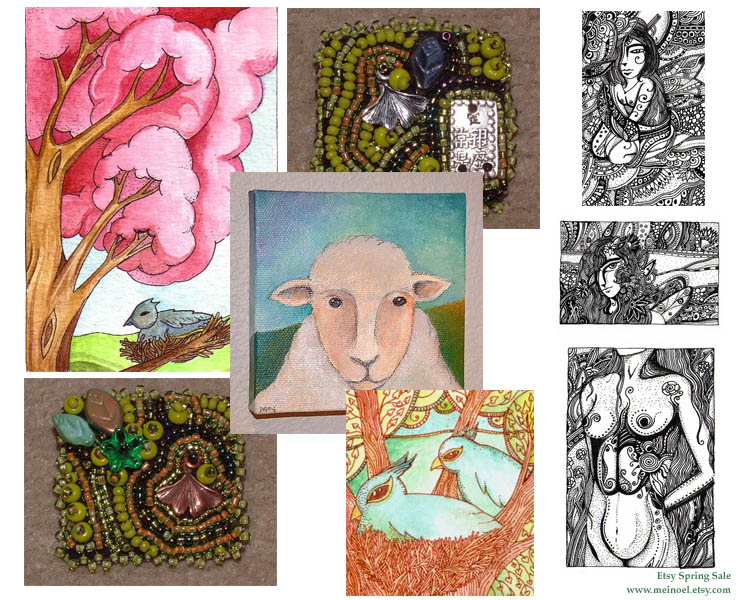 Tuesday March 20th 2007
Well, happy Spring. Not that it feels like it in Seattle, but it was nice on Sunday at least. Here are a couple new ATCs for you to look at, and if you are interested they are on Etsy, too. Also, I am knitting a stuffed pig from a pattern I got in etsy, but I will show you that when I am done! This is the Pattern, though. It's pretty easy if you are a new knitter. It has knit, purl, increases, decreases, and seaming. The seaming is probably the hardest part! I hope to knit a small army of pigs. Or at least the 3 little pigs.
Monday March 19th 2007
This weekend I was working some on some drawings for a zine i am doing for Alma Stoller's zine swap. Here is a little peek. It is Pitt art pen on color copy paper. Color copy paper actually works pretty well for ink, having a high clay content. I use it a lot for pen and ink I intend to reproduce.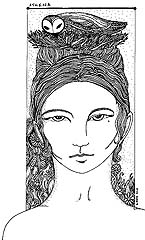 Friday March 16th 2007
Last night I felt inspired to paint some Arctic creatures.. So here we have Arctic Foxes and Arctic Polar Bears! They are listed on Etsy!. Click Thumbnails for a larger view.
Wednesday March 14th 2007
Happy Pi day. I should have made pie. I have had an urge to make gluten free apple pie, and maybe I will this weekend. (I am allergic to wheat and gluten and various grains, even some without gluten. But there are lots of gluten free mixes and things nowdays, which is great.) Anyway, I am sure you would rather see some art. These are some paintings I did a few weeks ago, watercolor and pen and ink, and they are on Etsy. Click thumbnails.
Tuesday March 13th 2007
Look, me updating 2 days in a row. impressive! Here are some more drawings / paintings, and again some are on Etsy!.
Monday March 12th 2007
I can't believe it has been so long since I updated. On February 12th (1 month ago) I managed to get a lumbar sprain. Sprain my lumbar? That sounds funny. I also had computer issues and my computer was in the shop for a week, but I have it back and it's fine now. Anyway, these things slowed down both the art making and the art posting. I am still not back to where I was physically, but I am much better than I was! And I have been listing art on Etsy. So I need to get caught up here! Here are a few pictures for you.. these are watercolor and pen and ink. (Also some pencil on the one in the middle.) Click Thumbnails.
Friday February 9th 2006
Again, more art! and again, some of this is on Etsy. And again, i wish I could draw all day every day. Last night I was drawing some cats, but I have not scanned the one I finihsed yet.. Hopefully I will get in lots of art time this weekend!
Thursday February 8th 2006
I wish I could draw all day long. But I guess I need to spend some time at my "regular" job, updating my website, and sleeping and things. I have been drawing a lot recently, though. These are from my new "fragment series" --some are still available on Etsy. click thumbnails for a larger view! Each is 5.5 x 4.25," ink and collage elements.
Monday Febrary 5th 2006
Clearly I need to post some art! You can see some of it on Etsy. And here is a gift for you... a valentine you can download, cut out, and give to your sweeties. You can color it too, if you like. Download PDF. Below you can see what the art looks like.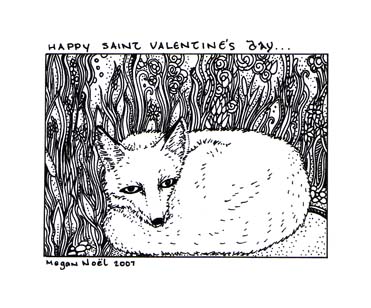 Monday January 15th 2007
Here we have 2 journal pages and a pen and ink drawing called "The Kiss," inspired by Gustav Klimt's painting. The first one is a journal page called Saami girl. Click thumbnails.
Thursday January 11th 2007
Here are some more things I have been working on recently. Some of these are on Etsy. Click Thumbnails!
Wednesday January 10th 2007
These are some ATCs i have been working on this week, inspired by what I have been working on in my journal. They are in my Etsy Shop. I think 2 sources of inspiration this week are: edward curtis (going through photogravures at work..).. maybe not evident in my art (yet) or maybe it is.. and last night i was looking more into klimt work's, deeper than "the kiss" and the other better known works, and i feel some inspiration coming up from there as well. I ordered a couple of klimt books from amazon. I already have a couple of edward curtis books. though the photo reproductions just are not the same as the photogravures.
Tuesday January 9th 2007
Here are some ATCs i have made recently. Some of which are on Etsy!. click thumbnails!
Monday January 8th 2007
Ok, so much for an update a day! But i will keep trying! and it's only been a few days since my last one! I have been doing a lot of pen and ink lately. You can see some recent creations in my Etsy Shop, also, below are some journal pages from my moleskine journal. These are all pen and ink, I also used some prisma color colored pencil. Most of the pens I use are micron pigma pens, I like 01 size best, but there are some here with nexus pens. I like the way they flow, it gives me a looser style, but they can smear a bit which is frustrating...click thumbnails! i have been trying to reach a little deeper with my art and it feels good..mouse-over for titles to these pages... and more are soon! :)
Thursday January 4th 2007
Goodness, I have been neglecting to update again. So now I will have to play catch up! Here are a few recent creations, and I will try to post a few more each day..And I have still been adding new things to my Etsy Shop if you want to take a look. In fact I am having a sale for a couple more days..
Thursday December 7th 2006
Sorry for the week without updates.. I have not been feeling well. And then, of course, this time of year I am making holiday gifts too and I can't show you those yet. But I have made some more ATCs, some of which are on Etsy. And I am having a sale on Etsy, now through Friday Dec 8th at midnight. 20% off the listed price. So if you buy something, don't follow the steps to pay immediately, let me send you an invoice for the sale price!
Tuesday November 28th 2006
Here I am, behind on updates again! I have recently made some beaded pins and beaded necklaces which are on Etsy.There are some little photos below of those, and also some more watercolor ATCs, shown below. Some of these are on Etsy. I am working on holiday gifts now, so there will be less I can show for a bit! But I will try to come up with something! :)
Tuesday November 21st 2006
A few more recent creations...
Monday November 20th 2006
These are a couple little watercolors I worked on this weekend!
Sunday November 19th 2006
These are 2 cuffs I recently finished and listed on Etsy. Click the thumbnails to see more detail -- and there are additional photos on Etsy, too.
Friday November 17th 2006
And more updates -- I am almost caught up! I think.. And again, some of this work is in my Etsy Shop.
Thursday November 16th 2006
More updates! and again, some of this art is in my etsy shop.
Wednesday November 15th 2006
Oh dear. I have not been good with the updates. So now I will do several to try to catch up. So check back for more over the next few days! As usual they are mostly pictures! click thumbnails to see larger. Some of this art work is in my Etsy Shop!.
Wednesday October 25th 2006
Oh, my goodness. I need to update more often :) I also wanted to let you know that I have moved my online art shop to my etsy shop. This is a lot easier for me. You can still browse easily and pay by paypal. If you do not have an etsy account, they are easy to make. But if you don't want to make one, that is fine, you can always email me your order and i will arrange the sale :) I have lots of goodies for holiday shopping. Here is just a sample.
x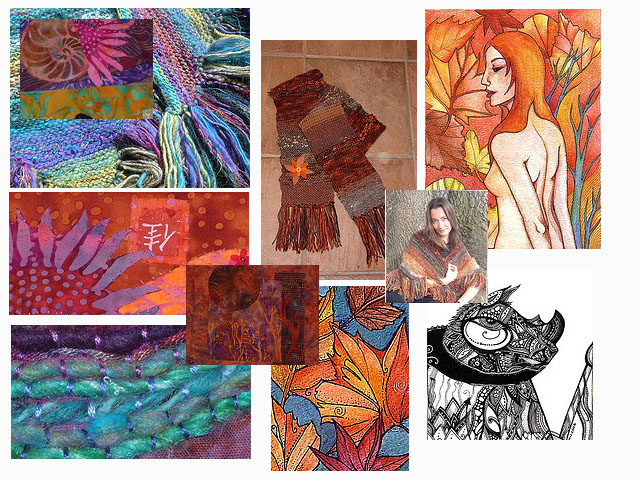 Wednesday October 18th 2006
More leaves.. The first three are ATCs (3.5 x 2.5") and the forth one is 7.5x5.5". click thumbnails.
Tuesday October 17th 2006
I love autumn and autumn colors. I actually use them all year round, but now i have an "excuse" .. so, here are some new little paintings I have done. The originals are 4x4" and 4.5x3" and they are available on ETSY!. By the way, if you are even interested in my art work but do not have an etsy account and do not want to make one, just email me and let me know what you are interested in! Some of the thumbnails below are clickable.
Thursday October 12th 2006
I could not sleep last night so I was up drawing. I will show you some of that soon.. I really wish I could have stayed home to make art today. I am knitting and drawing and working on a painting. Plus I have lots of ideas, as usual. Below are photos of some scarves and a shawl that I listed on Etsy recently. Some of the thumbnails are clickable.
Wednesday October 11th 2006
Last weekend I made a little sheep painting I am very happy with. I grew up on a sheep farm and this reminds me of Gabby, one of our sheep. Also below is another little witch drawing and a scarf. I recently listed this work in my Etsy Shop. I am trying to list something every day or two. I have a lot of art in the archives, as it were. And wintery items I was saving for this onset of the season! Some of the thumbnails below are clickable.
Thursday October 5th 2006
Here are some pictures of things I am and have been working on. I have also recently added new items (some below) to my Etsy Shop!. Below we have another miniature framed quilts, tiny pumpkin paintings (4x4") and a little witch girl I drew. I am feeling inspired lately, I wish I had more time to make things! click thumbnails!
Tuesday October 2nd 2006
I have been experimenting with embellished quilting, hand quilting, embellished quilting, and couched fibers -- all in one. i have little wooden frames for these, which i am painting to match. one of them is in my Etsy Shop, and the others will be soon. i wish i had more time to make art! well, and also my body seems to want to hiberanate now, which seems only sensible, to tell you the truth. so, here we have the art.
Tuesday Sept 26th 2006
And here we have the latest things I have been working on this past week... A little stuffed sheep (about 4" long.) and a a pen and ink pelican drawing, and a purse that i just finished (some of these photos show it in progress.) The purse is available for sale in my Etsy Shop the sheep and pelican were commissions. (Yes, I do take commissions. Just email me for more info!"
Wednesday Sept 20th 2006
here are pictures of a lot pf projects i have been working on.. cuffs, a purse (including pictures taken whole it was in progress) and a shawl. click thumbanails. Some of the cuffs are in my Etsy Shop I don't have any available purses now, but I do take commissions.
Tuesday Sept 12th 2006
I listed 6 of my embellished cuffs in my Etsy Store. Take a look, if you interested. And click thumnails below.
Sunday Sept 10th 2006
Some more cuffs in progress. Click thumbnails. I will be adding some of these to my etsy shop today or tomorrow probably, I will post a message when I do!
Thursday Sept 7th 2006
I have a bin a lot of my art for sale has been sitting in, packed up all cozy, waiting for a new home. some of it is on my website, some of it is on etsy, and some of it is waiting for me to show it someplace. so. i am showing it to you. it needed a little air. this is just a portion of it! click thumbnails.
Wednesday September 6th 2006
More cuff pictures. It is nice to do handwork while you sit in front of the tv, say, watching house season 2 on dvd. click thumbnails.
Tuesday September 5th 2006
I mentioned I am working on some embellished cuffs right now? It's nice because I can cut some out, making a huge mess with fabric, then lay out all my goodies and put the mess away. Now, for during the week, I have little stacks of cuffs to work on while I.. uh. watch tv! (so intellectual, huh?) And I have a little pile of embellishments so I can adorn at my leisure without making a huge disasterous mess. Plus if it's all ready I will usually work on it instead of collaping and saying I am too tired. So without further ado, here are 2 that are finished. The rest are waiting for the final assembly on the sewing machine.
Monday September 4th 2006
Gosh. I am feeling lazy today. I have been making art, though. I just posted pictures of 5 new drawings on my flickr acct. Would it be okay if I was really lazy and suggested you go look at them there? Here is my Flickr Link!. also, the same work is in my etsy shop (see link above.) I am working on some fabric/quilted/beaded cuffs right now, and there will probably be some in my etsy shop next week. I am trying to add new goodies every monday. I hope you all have a great holiday weekend!
Monday August 28th 2006
If you are really observant, you may have noticed that my website was down for a few days. It was hijacked and replaced by some very graphic political propoganda. I hope you did not notice that, but the pirate content was actually only up for about an hour and a half and then everything was down for a bit after that. So! Here I am, back, but this was from a July backup so a little bit is missing.

At least, to sort of make up for all of that, i have some exciting news. I have just listed quite a few pen and ink originals in my Etsy Shop! Also, my 1st ever print. It is limited to an edition of 25, so gets yours now if you are interested. And Happy Creating!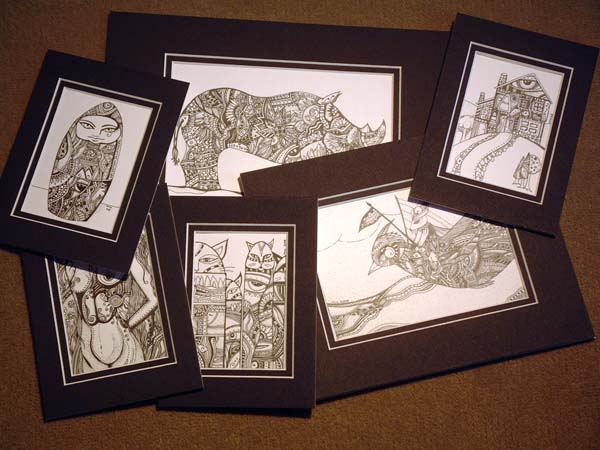 Monday June 26th 2006
i did a few new pen and ink drawings that are on eBay. I have also been painting my entry way, nothing too exciting, just some warm earthy colors of Divine paint (Mocha, Cafe, and Cocoa.) And I am knitting a sweater. which I have to keep ripping bits of out. Because I am so visual but I am not very good at counting sometimes! Click thumbnails below.
Monday June 19th 2006
I drew some more pen and ink drawings. These are also on eBay. I got some new ink paper I have never tried before today, I am anxious to try it out and see if I like it. It's meant for manga. Click the thumbnails below for a closer look.
Wednesday June 14th 2006
I have drawn some new pen and ink sketches and listed them on eBay. Below are thumbnails, click for a better view!
Saturday June 10th 2006
These are some little watercolor paintings that I did this Spring. Click thumbnails.
Also -- I added the Ghost Tree paintings, seen below, to my Etsy Shop
Thursday June 8th 2006
If you liked my tree branches in the murals below, but do not feel up to painting your own freehand, Teesha Moore has some neat branch stencils that she has just released for sale. there are birds, too. You can see them Here.
Thursday June 8th 2006
This is the most recent shawl I completed. Handknit from a variety of yarns, including handspun. It is mostly wool, but there is a variety. Click thumbnails.
Monday June 5th 2006.
It is time, or long past time, that I resume my weblog. I had not posted anything since November. Initially, my reasons were health related. But eventually, I just got out of the habit, too. I have been creating art, however, and I am going to start sharing some of it again, here.
Below are photos of my bathroom, which I just finished painting and redecorating. The mural is my own creation and was done freehand. I also created the beaded doll and the ceramics. You can also see art on the walls by Jen Worden and Bridgette Guerzon Mills. Click thumbnails.
After I did the mural, I was insired to do some smaller paintings, The Ghost Tree series, below. They are acrylic paint on canvas panels, 6x8" and 8x10". These are available for sale, priced between $28 and $38 each including shipping, and I will be adding them to my Etsy shop soon --or you may email me if you are interested. Click Thumbnails.