]
Friday March 19th 2004
Sorry I have not updated in so long, I have been busy making art. I will be adding images over the next few days. For now you can see new journal pages from my Gateway Journal or you can learn about my Lucidia Artist Book. I will post images of beaded dolls, and more journal pages, etc. very soon!
Wednesday February 4th 2004
The Painting which will be the cover for Mysterium 7. Click Thumbnail.
Also, I just listed some doll kits and doll faces on eBay!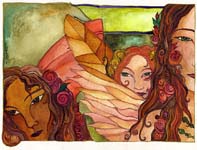 Tueday February 3rd 2004
things are progressing as expected for Mysterium 7 and I plan to mail copies to all subscribers next Monday. Also! I got my copy of Signatures, a new book on art journaling published by Somerset Studio. I was honored to be one of 13 features artists. It is a beautiful book.
I have started doing some redesign on this site. I have updated the works for sale page and have other updates in progress.
Wednesday January 28th 2004
Beaded Painting, 1st in the House Series. 4x4" canvas size. Click Thumbnails.
Tuesday January 27th 2004
Most of my time recently has been devoted to working on Mysterium Issue 7.
Mysterium Issue 7 is in production and I expect to mail it out the 1st weekend in February. This issue will include "The Embellished Home" and spiritual / soul art. It will feature work by: Megan Noel, Brent Bottles, Elizabeth Badurina, Fiona Wolff, Kim Hindi, Andrea Stern, Tera Leigh, and Nathan Ellis. Look for updates here as available! You can purchase single issues of Issue 7 below (shipped when ready), or visit the Mysterium page to purchase a subscription and/or back issues.

Purchase Issue 7 only:
Thursday January 22nd 2004
New Brooches--the Attribute Series. 1&1/2" x 1&3/4." Click thumbnails.
Tuesday January 20th 2004
New Brooches -- "The Seers"
Beads embroidered on ultrasuede. Each is 2" tall. The faces are raku, made by the artists Rama. Click thumbnails.
Monday January 19th 2004
New Triptych--House at the End of the World
Each panel is 6x4." Painted on canvas with just 4 colors
Golden Acrylics: Burnt Umber, Burnt Sienna, Raw Sienna, Chromium Oxide Green. Click thumbnails.
Thursday January 15th 2004
New "Lapis Buddha" painting. Click thumbnails for a larger view. It is beaded on canvas w/acrylics. You can bid on it on eBay!
Tuesday January 13th.
Just a few website updates. I updated my galleries page and my classes page. Visit these pages to find out where to see my work / take classes. Also, la luna 4 mailed today!
Sunday January 4 2004
New Beaded Painting, 5 x 5", The Storyteller.this painting is for sale on ebay. Click Thumbnail.
Monday December 29th 2003
Buddha Painting with beads. 5x5" click thumbnails. Beads on ultrasuede & Mixed Media on Canvas.
Sunday December 28th 2003

some of the beaded dolls/ornaments i made for the holidays. they can either be worn as necklaces or hung as ornaments. click thumbnails.
Tuesday December 2nd 2003
Mysterium Issue 6--the ART DOLL issue--is DONE & was mailed to all subscriber's as of 12/2/03. I will get the website to accompany it up soon! If you would like to purchase an annual subscription, see info at the bottom of this page. If you would like to purchase just issue 6, use the paypal link below!
order issue 6 for just $7:
Mysterium Six Front Cover shown at left! Yes, it is in COLOR!

This issue features art dolls from many talented artists, as well as instructions, patterns, and inspiration for creating your own art dolls!
Sunday November 23rd 2003
I finished the Amethyst doll. Click thumbnails!
Friday November 21st 2003
The Rhino and Amethyst Dolls are ready to assemble. I just started the Buddha Doll. Click thumbnails.
Wednesday November 12th 2003
One side of the Rhino doll is completed! click thumbnail. 4x7"
Wednesday November 5th 2003
Pony Doll, 3.5x4.5"
also, new eBay auctions.
Tuesday November 4th 2003
Paintings for Sale
Crow & Raven Paintings For Sale
Monday November 3rd 2003
And the Rhino Continues.. almost done with the 1st side. Click thumbnail.
Thursday October 30th 2003
A new doll, 1st in a series called the Grrs. He is 6.5" tall. click thumbnails. The pattern will be in the next issue of Mysterium.
Wednesday October 29th 2003
A new brooch, Earth Spirit, 3" tall. The pattern will be in the next issue of Mysterium, my zine, Also you can bid on the original on eBay. I listed a few more new items, so check it out!
Tuesday October 28th 2003
A new doll, the Unicorn. the Pattern will be in the next issue of my zine, Mysterium. You can also bid on the original doll on eBay!
Tuesday October 28th 2003
more progress. I am having some scanner issues!
Tuesday October 21st 2003
New Brooch -- you can bid for it on eBay 3" tall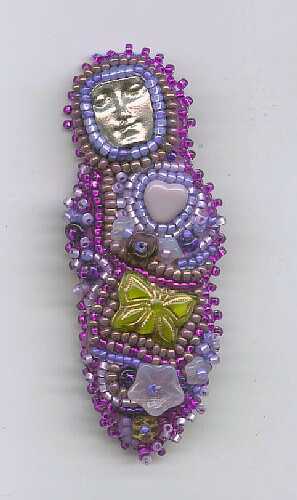 Tuesday October 21st 2003
dolls in progress. click on thumbnails.
Sunday October 19th 2003
Yesterday I taught a Shaman Doll class at Beads and Beyond in Bellevue WA. We all started creating dolls and we will meet again next month to complete them. I am actaully working on 2 dolls, a beaded rhino & Amethyst. I will be posting images of them as they progress. Click thumbnails
Tuesday October 14th 2003
Ivory Crow, 5 x 7"
a painting for sale on eBay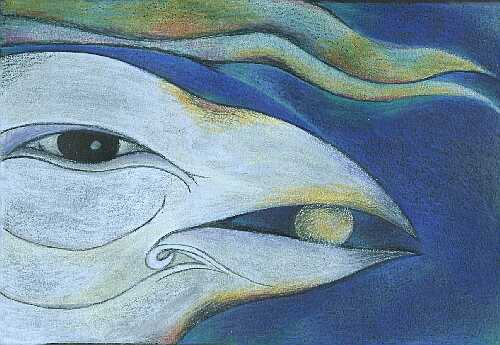 Tuesday October 14th 2003
A beaded wedding guest book, 6x6" cover. the beaded portion is 3x3". it is coptic stich with watercolor paper inside. the wedding colors are lemon yellow and burgundy. the book has burgundy endpages. the closure is a hand beaded button and elastic.
Also o eBay auctions ending today!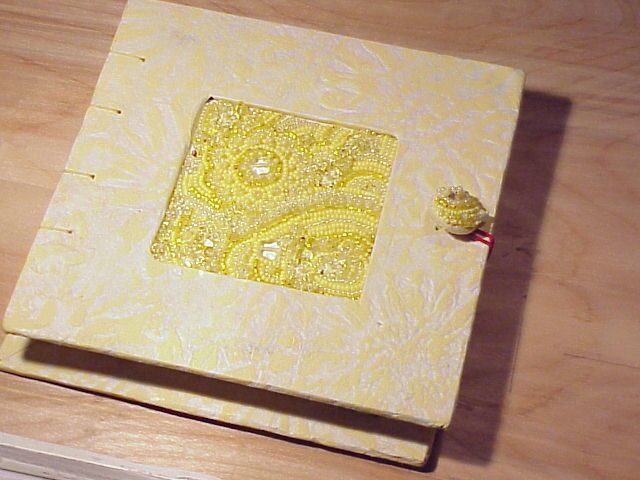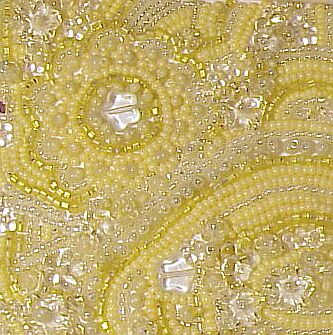 Wednesday October 8th 2003
I am busy working on Mysterium Issue 6 -- the art doll issue. I've gotten lots of wonderful submissions! Look for the zine in late October or Early November. All back issues are still available. I also have back issues of La Luna and Corvidae. I am also working on a beautiful wedding guest book, which I will post pictures of next week, and I just listed some more stuff on Ebay, including some brooches that were in Belle Armoire. Happy Creating, All!
Friday October 3rd 2003
My 1st ever artist's trading card. It is part of an alphabet deck being done by a group of artists i am a part of. I got the letter "Y." The card is 7x5" click thumbnails.
Wednesday October 1st 2003
I have some works listed for sale on ebay if you are interested. A beaded Raven Goddess Doll, 2 Goddess brooches, and 4 Beaded Buttons. View them Here! Thanks for looking!
Tuesday September 30th 2003
i have not been posting anything here but i HAVE been making stuff. i finished another zine, the 3rd issue of la luna which i was quite pleased with, and i have started 2 self published projects, a doll book and a coloring book. i was originally hoping to get these both done this fall, but decided to give myself a bit more time. i am also working on issue 6 of my big zine, mysterium. which will come out in late october or early november. issue 6 will be the art doll issue! there is still time to submit your art dolls via email, snailmail, etc. i can take digital images, snapshots, film, actual work.. etc etc. let me know if you want to submit. i have extended the deadline to 10/15. email me for details. i am also getting ready to teach a class in a few weeks, shaman dolls at beads and beyond in bellevue washington. i plan to start 2 new dolls, another raven and a rhino. i am quite enthused to create a rhino pattern, let me tell you.
as always, happy creating,
megan
Wednesday September 10th 2003
New! Corvidae, a zine about Ravens and Crows available for sale! Learn More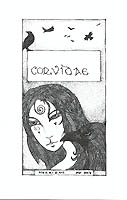 Monday September 8th 2003
watercolor painting, 5x7", Twilight Crow. click thumbnail.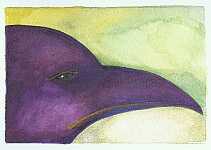 Friday September 5th 2003
3 colored pencil drawings
Left:Jade Raven 7x5"
Center: Red Raven 3.5x5"
Right: Feather 5x3.5"
click thumbnails
Wednesday September 3rd 2003
2 watercolor paintings w/colored pencil & ink 8x10"
Right:Blue Moon
Left: What Raven Told the Moon
click thumbnails
Wednesday September 3rd 2003
2 watercolor paintings w/colored pencil, 5x3.5" Spirit Crows--click thumbnails
Friday August 29th 2003
2 watercolor paintings, 8x10" & 5x3.5" Night Raven & Pinyon Jay--click thumbnails
Thursday August 28th 2003
2 watercolor paintings, Each ~4x6" Crow Love--click thumbnails
Tuesday August 26th 2003
Beaded Guest Book for a Wedding. 5.5x5.5" click thumbnails.
Monday August 18th 2003
double page spread in my art journal, What Raven Told The Moon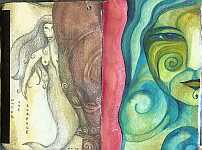 Thursday August 14th 2003
Some pages from my new Journal, What Raven Told the Moon (you can see the front of the journal below.) Click Thumbnails.
Megan Noël
Thursday August 7th 2003
I finished The Web supplement to Mysterium Issue 5! One reason I have not posted much art here this month is that a lot of it was in Mysterium. So if you are interested, Look Inside Issue 5!. There is also a bonus article. Please Enjoy!
Megan Noël
Wednesday August 6th 2003
Assemblage Box : Lopez. Created from objects found on Lopez Island, + Ephemera. Click Thumbnails.
Tuesday August 5th, 2003
My new journal, What Raven Told the Moon. Beaded Front Panel, coptic stitch, embellished with tea-dyed bone feathers and acorns. The acorns will turn brown as they dry, but it works best to pierce them when they are green. The pages are arches watercolor paper and a mix of other papers, cardstock, textweight, and graph paper. click thumbnails.
Also, Mysterium 5 has been mailed! Web updates for that will happen this week, and more art will appear later this week too, so check back here!
Thursday July 24th, 2003
I have not been posting, but i have been creating creating creating. Mysterium 5 is at the printers and will be mailed in a few days. I am getting ready for another show, have a beaded wedding guestbook to start, am making a new journal for myself, and announced the release dates for my 1st 2 self published books. October 1st for my 1st coloring book and November 15th for Shaman Dolls more info to come on that!
email me!
Cover of Mysterium issue 5
click thumbnail. Due out at the end of July subscribe here
Angel Brooches and Goddess Necklace
click thumbnails
bird shaman doll
greatest dimensions: 12 x 11" click thumbnails
Saturday June 21st 2003
completed embroidery on the bird shaman doll
Saturday June 21st 2003
Happy Solstice! water color (click thumbnail)
Friday June 20th 2003
water color (click thumbnail)
Thursday June 19th 2003
water color -- Dream Horse (click thumbnail)
Tuesday June 17th 2003
water color-- Cobalt Crow -- slightly different style
Saturday June 14th 2003
water color-- Cobalt Crows
Friday June 13th 2003
water color paintings--the one on the right was hard to scan! the fringe really hangs straight down.
Monday June 2nd 2003
necklace in progress, made in a class taught by C. R. Radding. She is a wonderful teacher. Visit www.crradding.com. click thumbnails for larger view
Saturday May 31st 2003
Watercolor
Friday May 30th 2003
Journal Pages
Tuesday May 27th 2003
Sunday May 25th 2003
Saturday May 24th 2003
Friday May 23rd 2003
Thursday May 22nd 2003
Wednesday May 21st 2003
Tuesday May 20th 2003
just a tip.. if you were planning to subscribe or renew your subscription to my zine, mysterium, now would be a good time. if you subscribe or renew by 6/1/03 you will be entered to win a beaded journal. ALSO, the price goes up on 6/1. Right now you can subscribe for $20 for 4 quarterly issues + a bonus issue. After 6/1 the price will be $25. Visit Mysterium's homepage for more info!
Tuesday May 20th 2003
This is a doll I am working on, I thought it might be fun to show it in stages. I made the face from Cernit, a type of polymer clay, and sanded it down. I designed the pattern also. It is called Bird Shaman.Click on thumbnails.
Mei
email me
Friday May 16th 2003
Some journal pages, color xeroxes of my original art on watercolor backgrounds.
Megan Noël email me
click on thumbnails
Tuesday May 13th 2003
i finished a new book. this is possibly my favorite book i have made, or one of them. it's 9 x 6" with a 2x3" beaded inset that incorporated a buddha.. well, it looks like a carving but i think it is some manner of casting. the closure is a raku button. it's got 60 pages, watercolor paper. this one if for a gift but i think i might make another one like it. the binding is coptic stitch, with burnt orange waxed linen. click on thumbnails to see larger.
Megan Noël email me
Sunday May 10th 2003
I did some website updates this morning... You can now see the images from Mysterium Issue 4 here. Mysterium is one of the art zines I put out 4 times a year. To subscribe or for more information visit this page. I also updated my for sale page with new handmade journals, a brooch, and dyed bone and polymer faces. all for sale.
megan noël email me
Friday May 9th 2003
I have been feeling kind of under the weather lately, which does affect my level of creativity. it's a little frustrating but i try not to let it get to me because i know down time is part of the whole process. so i have not been doing a lot of art, other than just ... i don't want to call it doodling, but flow of consciousness drawing in my journal. i am working on a new beaded book, however... i'll share photos eventually. also i wanted to tell you about a zine i got yesterday, it's dichotomy zine the 2nd issue.. the author is a poet/art journaler--and a man! yes--there are some zines done by men, not many but a few.
megan noël email me
Wednesday May 7th 2003
Assemblage Box
Paper Mache Box, Found Objects, Flax Roving.
1x2x3"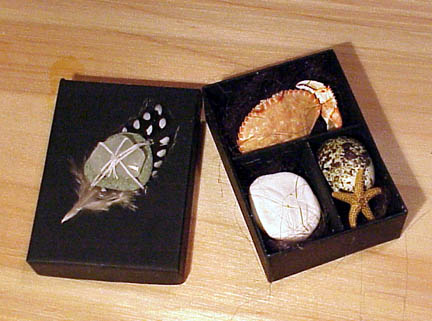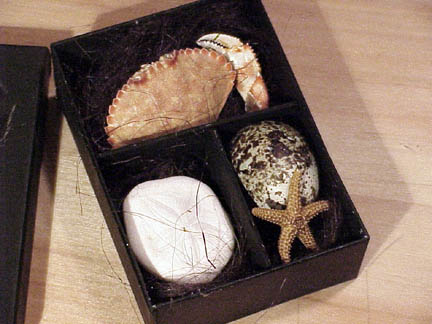 Saturday May 3rd 2003
I finished this last night.. she is 3" tall and the little round thing in the center is a tiny working compass. the face is dyed bone.
Megan Noël email me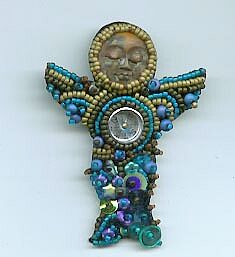 Friday May 2nd 2003
I am thrilled to have finished my 1st altered book. See Excavation!
Megan Noël email me
Friday May 2nd 2003
I am working on a small beaded mermaid pin now.. I will post an image tonight. Also I did a journal page of doll ideas yesterday (sort of rough) and I have been practicing diligently for my recital. I am making some progress!
~Megan Noël email me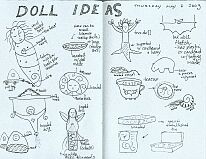 click for larger view
Thusday May 1st 2003
Happy May Day! Of course, it is the usual here in Seattle, I feel like I have woken up inside an oyster. But I do love Spring.
I am taking a little break from things.. relaxing more. I had been working pretty hard since January. I am sure I will be back in the swing of things soon enough, though. Last night I worked on my recital pieces. I play the violin.. I think I am playing all fiddle tunes this year, 6 jigs and a bluegrass tune, or maybe Jesu Joy of Man's Desire.
Happy May Day!
Megan Noël email me