Wednesday November 16th 2005
I am participating in a holiday sale this year with many other artists! It will be in Seattle Washington-- Ballard -- and you can get all the details here!
Monday November 14th 2005
I always want to show you everything I make, but of course this time of year I am starting to make holiday gifts. So I will have to hold off on sharing pictures of some things. I don't want to spoil anyone's surprise! For instance, I was waiting to show you this shawl.. I made it for my twin sister's birthday. But now she has seen it so it's safe to share the photos! Click Thumbnails. ALSO-- I have lots of goodies for sale in my online shop and etsy shop--see the links above--if you are in the mood for a little holiday shopping! Finally, I will be participating in a arts and crafts sale in Ballard on Dec 3rd. If you are in the Seattle area, please stop by! Details to come!
Wednesday November 9th 2005
Sorry there has not been an update in a while. I have been busy, though. And here are a few things to show you. 2 more pen and ink 4x4s I did. They have already sold but I hope to list more on eBay soon. Also there are 2 autumn pillows I did, 5x5" each, which are for sale in my Etsy shop (see link above.) And the Acorn hat is also for sale in the Etsy shop. Also, the Spirit Brooch which I did for a commission, and the autumn colored purse which was also a commission. I hope to have another update tomorrow or Friday!
Monday October 24th 2005
So, yesterday I gathered up all my artsy supplies in a pile (see below) and started in making stuff. That is several projects, of course. I did not get as much done as I wanted, I never do, but I did make 3 wee little acorns, now available in my Etsy Shop and I also made a pumpkin pie. (Not pictured!) The acorns are wool felt with crocheted hats. Click thumnbails.
Saturday October 22nd 2005
I crocheted a pumpkin hat. I made up the pattern. the yarn is Cascade Yarns pima tencil and Artful Yarns Candy. I also painted some new 4x4s. The 4x4s are available on ebay. Click thumbnails.
Thurday October 19th 2005
I listed another 4x4 on
eBay. You can see a photo of "The Frog Price" below. The 2nd in the "Fairy Tale" series. Click thumbnail.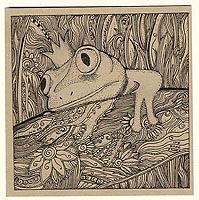 Tuesday October 18th 2005
I have some items listed on eBay as part of the Pink Auctions to benefit breast cancer research. Visit my eBay auctions or search on ebay "Pink Auctions" to see others. Pink Auctions will be listed over the next month or so, so if you are interested keep checking back. In addition you can also bid on my two new 4x4s. The Storyteller, on right below, is acrylic on canvas, and Solitude on left below is acrylic on wood.
Monday October 17th 2005
So, this weekend I got all my art supplies ready to go (see 1st photo below,) and then I made a bunch of wee little stuffed birds that are available in my Etsy Shop. Each is 3" long, made from batik and wool felt, and comes with a cozy little crocheted nest. I also made 2 coptic stitch journals with quilted insets in the covers.
Thursday October 13th 2005
I drew these herons last night... 4x4" each and pen and ink on some nice pale blue cardstock. I like to use micron pigma pens. For these 2 I used 005, 01, and 02. I grew up on Vashon Island and loved to watch the herons fishing in the harbor every morning on my way to school. These are listed on ebay. This weekend I am planning to make wee little critters, birds, etc. So if you have any specific wee desires now would be a good time to email me! As always, click thumbnails for a better view. Also! I added an Art Squared gallery page!
Wednesday October 12th 2005
And to continue with the art! Here are some more 4x4 works of art.. as I mentioned I am still listing works like this on eBay every few days, and here is a little wee owl I made recently. He is 3 or 4" tall.I added a few more things to my Etsy shop today also.
Tuesday October 11th 2005
Well, several bits of news. I now have an Etsy shop. I am trying to introduce my work to new people who may not have seen it yet. You can visit my Etsy Shop Here! Also, I continue to list small 4x4" works of art on eBay a few times a week, you can view current auctions Here!. And finally, some art I have been working on recently, shown below. This time of year I start working on holiday gifts so there will be some things I can't show you yet but I will try to continue to provide as much "eye candy" as I can!
Wednesday October 5th 2005
I started this shawl on a 2 hour car ride on September 10th. Since then I have worked on it mostly in waiting rooms, in the car, on buses, during my breaks at work. etc. I have spent a little time at home, but most of it has been time I would squirming with boredom! I finished it and added the fringe last weekend. There are about 20 different yarns used, mostly wool. I am quite pleased with the result.
Tuesday October 4th 2005
Here are yet more photos of art I have been working on lately...Click thumbnails.
Monday October 3rd 2005
Here are some photos of things I have been working on recently! More to come later this week.. Click thumbnails!
Sunday October 2nd 2005
I have been adding more 4x4" "Art Squared" Auctions to eBay every few days so keep checking them out! Also, I just completed a Shop Update. There are 4 new beaded pins on the jewelry page, there is a new embellished book page with 3 beaded blank journals, and there are 2 new styles of little plush critters on the cloth doll and plush page. Hopefully I will have time to add a few more goodies later on in the week! I am going to try to make time to add somemore photos of recent commissions and projects here, tomorrow I hope! --so please check back!
Tuesday September 20th 2005
I have 2 more 4x4" "Art Squared" Cards on eBay. You can also see below!
Wednesday September 14th 2005
I added a new page to my shop.. Beaded Dolls For Sale. I have reduced some of my prices. Check it out!
Wednesday September 14th 2005
I added a bunch of goodies to my home arts page! Look here!. I added fiber bowls and wall hangings...sneak peak below.
Monday September 12th 2005
I added 3 new brooches to my shop on the jewelry page.
Sunday September 11th 2005
some of my minature paintings/drawings are for sale on ebay
as part of the new yahoo art2 group.

"Art Squares are a new format of ACEOs, giving artists a larger 4 inch by 4 inch canvas
to work on but still maintaining the small collectible format."

more info on art squares can be found here.

Also look for more website updates all this week.
Friday September 9th 2005
below are some photos of a cute little purse I made recently. It is hand and machine quilted and embroidered. Click thumbnails. Also, I have updated my shop! I added 6 new brooches and reduced the price on some others as part of a change in my pricing structure. Since I am no longer selling my work in galleries but am promoting it myself, I am able to do this. If you want to help me out with this, pass the word on about my website! Thank you!
Thursday September 8th 2005
I have added the sheep and the wee cats to the shop. I will be adding more wee animals soon! Shop Here!.
Wednesday September 7th 2005
I have a beaded doll listed on the the crafter's united page. The entire proceeds benefit survivors of hurricane Katrina. To see the auction on the Mardi Gras Doll (created 2001) go here!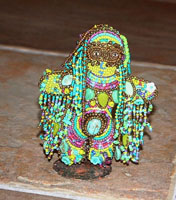 Wednesday September 7th 2005
It is realy starting to feel like autumn i the great Northwest! Here are some recent creations. These will be added to my shop soon. Or email me if you can't wait. The kitties and sheep are all about 4-5" long and are $25 each. If you buy more than 1 there is a discount!
Wednesday August 31st 2005
And more pictures of recent art for you to enjoy. click thumbnails. I will have more tomorrow.
Tuesday August 30th 2005
And the update continues. I finished another purse, and added it to the shop. And here are some more photos from the backlog... click thumbnails.
Monday August 29th 2005
I have been a very poor blogger! I have at least been making art, if not posting pictures. I have been having some health problems but am doing much better so I am going to try to start posting the backlog of images! Here are a few things for you to enjoy... Also, I have lots of new work, hats, shawls, scarves, purses, and dolls in my On-line shop, and more to come. Click Thumbnails. Check back daily for a while as I get "caught up" posting images!
Friday June 3rd 2005
More things I have been working on recently.. a photo of my bathroom showing my original art + a raku angel i purchased. (I finally am decorating more after living in my condo for 10 months so there may be more photos!) pots i have been working on, both finished and in progress. a purse i made. 2 embellished cuff bracelets. the kitsune shawl completed. an art pillow, and another shawl in progress. i also wanted to let you know i have an article in the new somerset publication Handcrafted.. And, since people keep asking, yes I DO take commissions for purses ($50--$75), cloth dolls ($40--$60), embellished cuffs (~$35), shawls ($175--$250), embellished journals (~$35--$50) and pillows ($35--$50). just email me to inquire. It usually takes me 2--6 weeks depending on my schedule, but I will let you know how long it will be. I am glad to work in your favorite colors or use your favorite symbols and motifs. I am not taking pottery commissions right now, but most of my pots are for sale and prices range from ~$25--$50. Always feel free to inquire about anything you see here. If it is not for sale, I may be able to make something similar. Generally commissions are due when the project is completed and you have approved by photo. I accept paypal, checks, and moneyorders. Click thumbnails.
Monday May 23rd 2005
At last--more pictures as promised. Recently I have been working primarily clay and with fiber.. I am taking a few days off my "other" job to do more art soon, and I hope to get some more fabric art done--purses, cuff bracelets, and cloth dolls. I am also planning a series of beaded frida kahlo necklaces.. probably a series of 8. I am sure I will want to keep 1 or 2 for myself but the others will be for sale. In the meantime, below are some photos of what I am working on now. a knitted shawl, i call the "Gelfling Shawl"--shown in progress, almost finished (I am wearing,) and finally with fringe added. Also a 2nd shawl begun and in progress--"Kitsune Shawl" (fox/fox spirit in Japanese.) In addition some pottery. Enjoy and click thumbnails! Also I added another pot to the Pottery For Sale page.
Friday May 20th 2005
I have some more pictures I need to share! I need to do a proper update! More pots, a finished shawl, a purse... I will do that later today or in the next few days. How do people find time for art AND html? In the meanwhile, My boyfriend Audin makes really beautiful pots. He is really much more talented than I am! His pottery website is done now.. you can look at working shots, a gallery, or shop for beautiful pottery.

Visit Audin's Website.

Sunday May 15th 2005
I wanted to let you know I have some pottery for sale on my website now. You can see available pots here. I will be adding more as time goes on.
Friday May 13th 2005
I wanted to let you know I am having a "Art Garage Sale" --art books, supplies, and actual art. new stuff being added every day or two. It's online and you can see it here! Also. I will be creating a new page with some of my pottery for sale this weekend and will post a link here when it is done!
Tuesday May 10th 2005
Some more art projects I have been working on. Mostly ceramics. Pots in various stages of creation. Also a bracelet
in progress and 2 stoles I knitted. I am working on another bracelet
and another purse as well. Last night I glazed 8 pots and hopefully they will turn out! the bowls are wheel-thrown
then carved when they are leather-hard. I am still experimenting with which glazes show the relief the best. (click thumbnails.)
Wednesday May 4th 2005
Below are some photos of recent creations.. a purse, both in stages and completed, and some pots, in various stages too. I am working on some knitting, a plush project, and various other little things...more pictures soon!
Sunday April 24th 2005
I have been working on some new purses! Click thumbnails. Also some more plush animals and veggies and more pottery. the purse are for sale in my art purse shop.
Monday April 4th 2005
I have not been good about updating this! But I do have some new art.. Click on the thumbnails below! You can see photos of: my new journal, the spiral moon goddess doll, a felt and fabric triptych, a mermaid purse, new bracelets, a wool felt mousefairy, a fleece and wool felt "debian" penguin, a photo of me throwing pots, 20 stuffed mutant onions, a stole i am knitting (be nice i am a beginning knitter,) some finished pots i threw and glazed, and my newest fleece monsters. i am working on some new things for the website, in terms of monsters, etc. so check back for updates! you can order snuggle monsters and debian penguins in my NEW plush shop!
Wednesday February 23rd 2005
a new doll, bracelet, and 2 new purses. the doll is available for sale here and the bracelet is available for sale here and the jade purse is available for sale here. remember to visit my easter shop as well!
Friday FEbruary 18th 2005
A new violet mermaid doll. She is available for sale here! She is about 8" tall. click thumbnails and check back for more updates over the next few days!
Thursday February 17th 2005
A new purple purse. I am also about to add it to my for sale page!click thumbnails. and look for more updates over the next few days!
Monday February 14th 2005
I have 2 new purses I have made. The Ivory Bamboo Shoulder Bag and the Crow/Raven Shoulder Bag. The Crow/Raven purse already sold, though I will accept a commission for a similar one for $85 if you email me. The Ivory Bamboo Shoulder bag is for sale. There is also still a Raven Bracelet available among others. Click Thumbnails.
Sunday February 13th 2005
My Easter shop is now open for business! You can see a sample below and for more photos or to shop visit the Easter Shop!
Thursday February 10th 2005
I have been making lots of new art recently but have not been so good about sharing pictures! So here we go. below you will find: a green quilted embellished bracelet, a green embellished handbound journal, a quilted green asian motif shoulder bag, a microwavable heating pad in the shape of a monster, a felt plush piggy, a plush bunny, some plush "conversation hearts," a red embellished handbound journal, an autumn colored quilted embellished bracelet, an autumn colored cloth mermaid doll, and a blue retro-look cherry purse. whew. The Mermaid doll is available for sale here and the autumn colored bracelet is available for sale here. I also still have a few great purses available for sale on this page. click thumbnails for a larger view! also check back soon, i am working on more purses and plush toys for easter, etc.! As always commissions are welcome! email me if you have any questions or comments!
Thursday February 3rd 2005
I have been busy busy busy making quilted cuff bracelets. You can see them, and if you are interested, purchase them here! Below is a little sample!

Monday January 17th 2005
You would not believe how many magazines I own. Really. I need to own less because I only have so much space. So I am selling some back issues on ebay and you can look here. There are nearly complete runs of Beadwork and Bead & Button. Also lots of back issues of Ornament, Legacy, Mary Engelbreit's Home, Expression, and more. I am selling them in lots of 4-9 magazines, check it out!
Friday January 14th 2005
Here is an embellished journal I made and another shoulder bag. I take commissions for journals (generally starting at $35,) and my bags are for sale here.Click thumbnails below for a larger view. email me to ask about commissions!
January 7th 2005
i was quite busy making things during december, though i did not share photos of them since most of them were for holiday gifts. below are many photos of my gifts. also are photos of some purses i am working on to sell on my website. You can SHOP FOR PURSES HERE!
Thursday December 2nd
More interesting news. Heather Blakey of Soul Food Cafe has set up a holiday advent calender on the web. I am honored to be Day 3. Also I have added some more earrings, shop or just admire here!
Wednesday December 1st 2004
Hi! I added a bunch of new earrings to my site! These are gret for Holiday gifts. You can shop or just admire. I will be adding a few more tomorrow, and perhaps some more brooches if I have time. There is still time to order for the holidays! Meanwhile I am still working on some fabulous larger projects which I will continue to share here!
Tuesday November 30th 2004
Hello and I have some good news! Mysterium Issue 9 has mailed! It mailed yesterday and you should get your soon if you ordered a copy. If you would like to order a copy you can do so here!. The cover is shown below. Also I have photos of a new purse I just made. It is modified from a pattern called Rag Bags by I Wanna Quilt. I made a few changes, as is my tendancy! Lastly, I have a doll on eBay!. I am busy getting ready for the Holidays. I will be sharing photos of some of the things I am making -- some not till after the Holidays! I am also working on some new earrings designs and will let you know when they are available. Finally I am going to add the sushi pillows to the plush order page today! You'll be able to order fishy shushi and avocado rolls! they are yummy and snuggly. Click Thumbnails below.
Tursday November 25th 2004
Happy Thanksgiving Everyone! And just to be non traditional, last night I made some sushi throw pillows. They are 9" across and there will be some available for sale in my online shop soon! They are soft and cozy, made of polarfleece and hand dyed wool felt. Click Thumbnail!
Monday November 15th 2004
today is the day that my Moppot dolls are available for sale! I also have minature sushi dolls available for sale. You can Shop Here!"
Friday November 12th 2004
Below are photos of Rosebud, the doll which is being auction on eBay to benefit Breast Cancer Research. You can bid here. Also below is a commission I did, a "Christoper Columbus" Journal. It is 9x6", coptic stitch. It was a lot of fun to create. Click Thumbnails! Also, Mysterium 9 is completed and is being edited and then will be printed. I hope I will able to mail it in another week or so..You can preorder your copy here! Finally, be sure to check back here Monday, Nov 15th because I will be offering cloth dolls for sale and updating my other for sale pages -- time for holiday shopping!
Tuesday November 9th 2004
My art doll Rosebud, is now on eBay. You can visit her and bid here. All the proceeds from the Pink Auctions go to Breast Cancer research, so spread the word!
Friday November 5th 2004
Another doll, this is Blanche. I am also working on Rosebud, who will be auctioned on eBay to benefit breast cancer research. I will post photos and a link in the next couple days..click thumbnails. Remember my new dolls, the moppots, will be available for sale on Nov 15th, I will be providing details here!
Tuesday October 2nd 2004
Get there and vote today! One person can make a difference in the world. Your vote is your voice. And I have some more cloth dolls to share, too! Click thumbnails. I to start offering these dolls for sale on November 15th, so check back here! I my offer one for sale as part of the ongoing Pink Auctions before that, will let you know if I do!
Friday October 29th 2004
Marigold is about 7" tall. Also here are more photos of her friends. I have 2 more mermaids in progress and am looking forward to working on them over the weekend. I decided to start offering the cloth dolls for sale when I get up to 10 of them. I am on 5 and 6 now, and 7 and 8 are being daydreamed about...click thumbnails. i need a name for this series! email me if you are interested in purchasing one or want to offer a name suggestion!
Monday October 25th 2004
More cloth dolls! The dolls are 7--8" tall. Click thumbnails for a larger view.. Also some dragonfly wings for some project or the other..
Thursday October 21st 2004
I have not been good about updates, have I? But I have been making stuff. What stuff, you might ask. Well, take a peek here. There are some more mermaid photos, and more to come. The Elvis Brooch was a commission.. Next I have some samples from an article I am writing for Mysterium 9. & Yes! I have done more on the doll book, too, though it is still not done. Next, the orange doll, she The doll started as Pele but has turned into some sort of Harvest Goddess. She is hand quilted / fabric collaged. The faces are also quilted, and the green one is hand painted. I've got wings too.. there will be directions for all of this in the next issue.

There is a 3 strand necklace with Balinese silver, forget-me-knot charm, and swarovski crystal also.
The faces below that are polymer. Those are for Mysterium also. And then, I have been quilting recently. This is my newest thing, so here are some photos of some things I am working on. The Heartz quilt is from a pattern by Jan Mullen of Stargazey Quilts. Click Thumbnails for a larger view.
Friday October 15th 2004
Well, the Pink Auctions to benefit Breast Cancer Research have begun on eBay and you can see them all here. Remember, your small actions can change the world. You can bid on these auctions or find out how to donate artwork yourself. Take a look over the next 2 weeks, as more auctions will be added. I know sometimes we all feel helpless in the face of hardships such as cancer, but together we can all make a difference in our small way.
Thursday October 14th 2004
I need to update more often.. I have some recent art to share.. I will try to update this weekend. Good news! The mermaid doll got into the Absolutely Beads show, more info on that and more photos to come. Also I have donated a necklace and a brooch to Pink Auctions, an online auction to benefit breast cancer research. Visit the website and keep visiting for updates.. it will tell you how to donate and how to bid! I donated a couple pieces to another auction to benefit a woman's shelter and the woman of juarez, more details on that when i have them.
Normally my sales are up in the pre-holiday season, but that is sadly not at all the case this year, probably due to the poor economy and the focus on the elections. A good time to donate art, I say!
Sunday October 3rd 2004
I updated the jewelry for sale page with new earrings, including some spinning wheel earrings which have been popular!
Monday September 27th 2004
The mermaid doll is done and currently being judged. I have some more photos in progress to post but I won't be able to post the final photos until I get her back next week. (Ok I finished her at the last minute!) I will post more mermaid photos tomorrow... in the meantime there is some new content on my site.. I added 9 brooches that are available for sale, and it's time to think of holiday gifts.. you can see the beaded brooches here!
Tuesday September 21st 2004
Well, I got a bit done on my website today. You can shop for available paintings here! I have lots more art to add, jewelry, dolls, and more paintings. I will document updates as they happen!
Tuesday September 21st 2004
All of the Selkie zines have been mailed out, as of this morning! They were sent 1st class mail, so expect them soon! The art turned out beautifully. The mermaid has been assembled around her armature and I am now working on embellishment and fringe. I am also going to reattach the face, it's on a bit too tight! Here are a few photos, click thumbnails. I need to have her done by the weekend for the Absolutely Beads show, so expect to see finish photos soon! For zine info see THIS PAGE. I would LOVE it if you send submissions of your art dolls, art doll faces, or fabric art by Mid October. email me for more details!
Also, here are some more embellished paintings I did a bit ago and never shared photos of. Most of these will be on my for-sale page once I get it up, er.. maybe next week, but in the meanwhile If you are interested in any, you can Let me Know prices will be $30 and up..Click thumbnails!
Thursday September 16th 2004
This is the cover of the Selkie zine, click thumbnail. I will start mailing them tomorrow, though it will take a few days to get them all sent out!purchase here!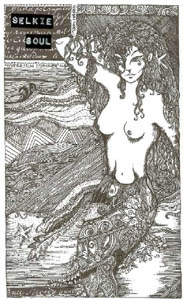 Wednesday September 15th 2004
Sorry no updates in a while! There are a few updates on the mysterium page. The Selkie zine is available in a day or 2. If you subscribe to Mysterium you will be getting a gift copy, otherwise you can order on that page.
Issue 9 will be the last issue of Mysterium, and you can preorder it there also, if you wish. It will be out in late October or early November. There is still time to submit art dolls for issue 9--through early October. Articles are welcome also.
I am finishing up the mermaid doll for the Absolutely Beads show, you'll see that here soon! And I found out I did not get into the Land of Odds show, which was disapointing, but I did enjoy making my 5 Seasons Dolls. I have heard that Lark's 500 Beaded objects is out, which I have work in, but I have not seen a copy yet. I don't know if I mentioned but I am also in the Summer Art Doll Quarterly (back cover Fire Mountain Ad,) and the Autumn Belle Armoire (Button Article with Robin Atkins.) And I promise, more art here soon, and lots of work to be added to the FOR SALE page. I have lots of paintings and small beaded items (mostly brooches and necklaces) that I will be offering for sale -- just in time for the holidays! email me with any questions! Thanks for all your support. ~Megan
Monday August 23rd 2004
More embellished paintings. The sizes range from 4x4" to 8x10". click thumbnails.
Thursday August 19th 2004
These embellished paintings are part of a new series I am working on. Adobe & Queen's Chamber are 6x6". Scarab & Raven are 4x4". The Scribe is 8x10". I am working on more and will probably be listing some on eBay soon.
Wednesday August 11th 2004
I may not have been posting but I am making art. I am working on a 10" mermaid doll. Pictures are below, click thumbnails. I also have another project, it's secret for now, and I have some interesting things in the wings...
Wednesday August 4th 2004
I was hoping I would be more settled and artistically productive by now, but at least i finished spirit. These are not the best photos, will try to take better ones later.
Tuesday July 27th 2004
I have moved and am now getting settled! I started the back of the Spirit Doll and got quite a bit done. I am also inspired to get back to my book! Look for my work in the most recent Belle Armoire Magazine and on the back cover (Fire Mountain Ad) of Art Doll Quarterly! Also more eBay auctions starting sometime this week. I will be listing original art, art supplies, and maybe some books/kits.
Tuesday July 20th 2004
The front of the spirit doll is done now.. click thumbnails.
Monday July 19th 2004
I signed on my condo today and tomorrow i close. i move in 5 days. stress levels are high and what better way to deal with stress than to bead? so Spirit is well under way. The face is dyed bone, the cab on the left is lapis and the bird is carved turquoise.
Sunday July 18th 2004
The Winter doll isfinished, which completes the 4 seasons. I am making a doll to go with them, Spirit. Here are pictures of winter and the other seasons. Click thumbnails.
Thursday July 15th 2004
& the back of winter is nearly done. I hope to have her done this week so I can start the final doll in this suite. Busy busy! Oh, and I move in 9 days, little things like that. Click thumbnails.
Wednesday July 14th 2004
& the back of winter is progressing. i need to do SOMETHING other than panic about moving (10 days now!) Also here are 2 bone faces--experimenting with some new techniques of embellishment. They started out completely white but I removed the finish with hot lemon juice, dyed with tea, accented eyes and features with walnut ink, further embellished with prismacolor colored pencils, and sealed with fixative to prevent the pencils from smearing. Click thumbnails.
Tuesday July 13th 2004
front of winter is completed. i love working with ivory and white..
Friday July 9th 2004
Winter Doll started! The Ultrasuede is tea-dyed and the bone face is dyed with just a touch of tea, some walnut ink, and a bit of pencil. click thumbnails.
Thursday July 8th 2004
I finished the Autumn Doll, and now I am working on winter. Click thumbnails.
Wednesday July 7th 2004
The embroidery on the autumn doll is done and now I am assembling using Picot stitch. All of this will be detailed and explained in my book, Shaman Dolls. I have finished about 1/3 of the book and hope to have it completed by the end of Summer. News on the book will be updated on this page.
Monday July 5th 2004
The Mallard doll + the Autumn Doll in progress. Click thumbnails.
Friday July 2nd 2004
And the autumn doll continues to progress.. The front is nearly done! click thumbnails.
Tuesday June 29th 2004
The Autumn Doll progresses..click thumbnails.. also I added some more stuff to eBay, see link above!
Monday June 28th 2004
I need to get better about updating! sigh! still need to post pictures of the Mallard Doll I made, I want to take some outside. In the meanwhile I just finished a Summer Doll to go with the Spring doll I made earlier this year. Below are some pictures of her and of her with Spring. click thumnails. I just started Autumn. I am feeling a bit burnt out in general, I guess I will settle down and be more creative after the move! Also working on the bonus issue of Mysterium -- the theme is Selkies.
Tuesday May 11th 2004
Pieced and quilted pillows using photo transfers of original art and family photos. click thumbnails
Tuesday May 11th 2004
Mysterium 8 is done! This is the fabric art issue! All copies will be mailed by the end of the day today! If you want to buy a single issue you can do that for $7:

OR you can order the BLUE PLATE SPECIAL! Help me thin out my back issues before I move to a small condo! The BLUE PLATE SPECIAL includes: Mysterium Year One + Mysterium Year Two + La Luna Year One + A Year in Poems perzine + Corvidae perzine -- a total of 14 zines for $60 including shipping! If you bought these individually they would cost $81! To order, use the paypal link below, or scroll down to purchase other items.
Thursday April 21st 2004
Yesterday I got my copy of Art Doll Quarterly Summer Issue. 3 of my dolls are featured in it -- the buddha, the rhino, and the amethyst goddess. I am honored that they gave my work 4 whole pages! Below is a brooch I recently finished!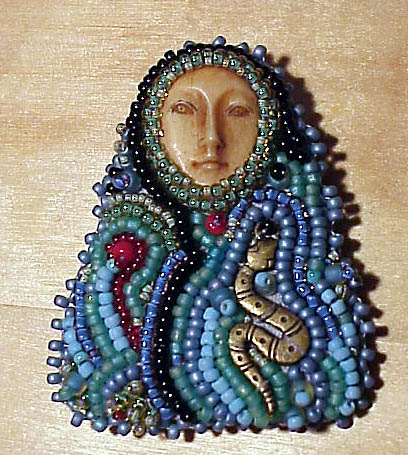 Wednesday April 14th 2004
Thesethe last 2 dolls I have made, there are some in-process photos and some photos of the finished dolls. click thumbnails.