Megan Noël's Artist Statement and Biography
Every artist dips his brush in his own soul, and paints his own nature into his pictures. ~Henry Ward Beecher
Megan Noel is a painter, illustrator, textile and mixed media artist working in the Northwest. For many years she has been known for her beadwork, but in recent years has chosen to focus more on her equally intricate painting and illustrations.
Her favorite media are watercolor and pen and ink. Her paintings and illustrations range from dreamy and surreal to delicate and whimsical. She seeks not to create masterpieces to grace the walls of museums, but rather to create smaller more intimate works to fit into the lives of readers and writers, poets and dreamers, mother, fathers, and everyday folk.
Megan has been creating, initially with beads and later with other media, since her early days, growing up on a sheep farm on Vashon Island, and surrounded by weaving, spinning, dyeing, felting, and a appreciation and respect for all forms of textile arts. Megan discovered her passion and gift for beading in 1990 and began teaching several years later. She has developed her own style of bead embroidery. Her work includes beaded dolls, evening purses, amulet purses, brooches, and buttons. She also works with fabric and fibers to create wearable works of art, each utterly one of a kind.
While these creative interests may seem far reaching, there is a thread of connection that weaves through them all, her own unique style that is immediately recognizable in her works, from watercolor to elaborate hand knitted shawls. In a time when many artist's works seem to "all look the same", Megan's work stands out as unique.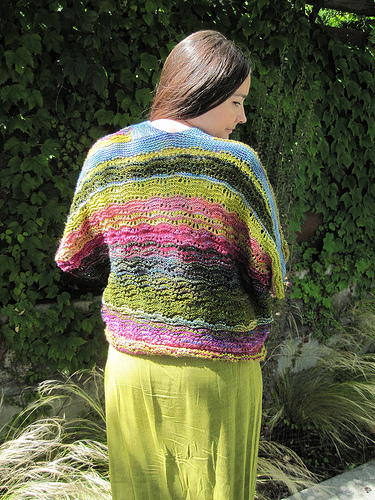 Megan (pictured at right in handknit kimono) has been teaching beadwork and drawing classes off and on over the last decade and a half and is currently considering expanding her offerings. If you would be interested in having Megan teach in your town please send an email.
Megan has shown her artwork locally and nationally in various galleries and other venues, including: Mesolini & Amici , Turtle Press, The Artists Tree, BKB & Company, The Artifactory, Gallery Ten, The International Bead and Button Show, the National Button Convention, North Seattle Community College and Beads and Beyond.
Megan has published artwork and articles on art and creativity, including "how-to" articles in a number of magazines including Belle Armoire, Somerset Studio, Bead and Button, Beadwork, Legacy, Soft Doll and Animal, and others.
Her work has appeared in several books including Bead Embellishment by Robin Atkins, Creating Cloth Dolls by Marthe Le Van, and 500 Beaded Objects, published by Lark Books.
She has also worked on a dozens of fine art publication ranging from calendars to gallery catalogs to oversized art books, selecting images, doing research, editing for content and copy, fact checking and writing captions. These works include Chihuly Small Book Series (10 volume set), Chihuly Black, Chihuly at the Royal Botanic Gardens, Kew, all published by Portland Press. She also contributed to the Chihuly Monograph and Chihuly 365 Days, both from Abrams.
With a decade and a half of experience working in the field of fine arts Megan is also available to assist with your art care needs, including cataloging and documenting, setting up archival storage, research, and more. She has extensive experience caring for vintage textiles including Finnish rugs, Native American baskets, trade blankets, and vintage beadwork.
When she is not creating, Megan can be found in Ballard, one of the oldest neighborhoods in Seattle, the traditionally Scandinavian part of the city, where her family has lived for over 100 years.
Megan gets her inspiration from nature, vintage beadwork, mythology, and literature. Her inspiration is fickle, and more likely to be the result of a line from an ee Cummings poem than an article in a bead or art magazine.